OEM/ODM
Taiwan ISO9001 Factory OEM/ODM Terminal Block Connectors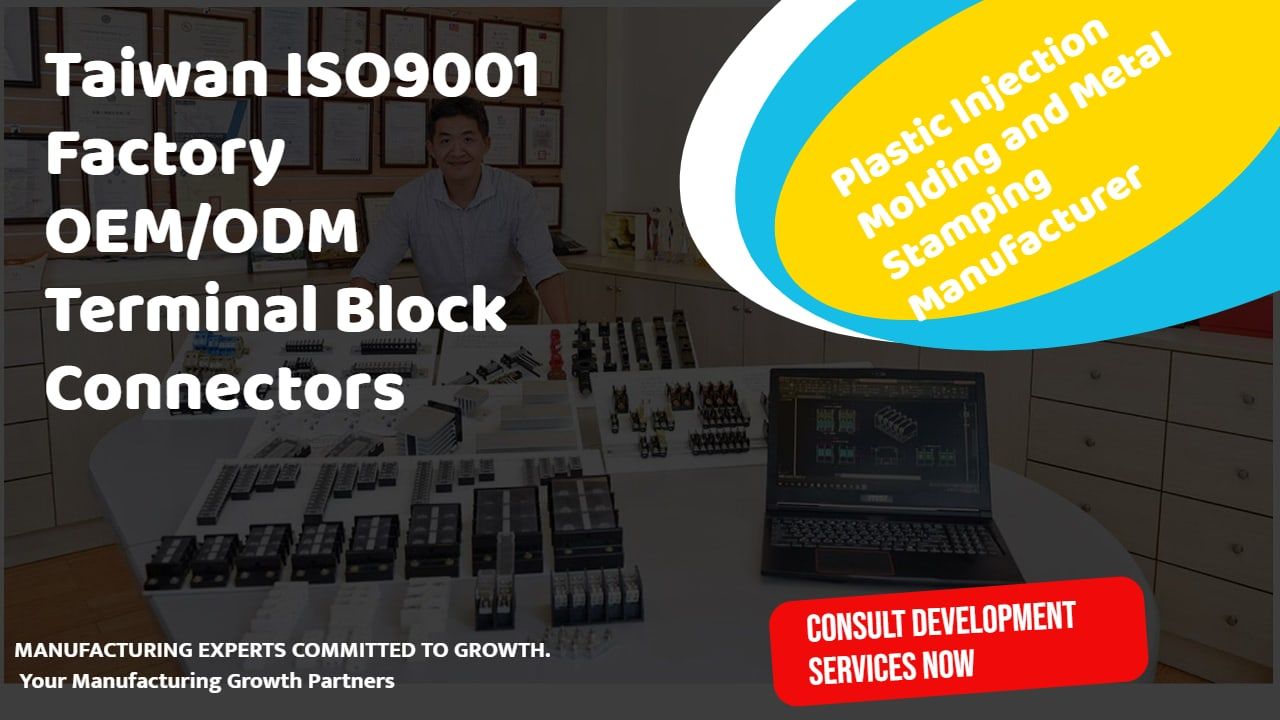 TAIWAN OEM/ODM Manufacture of Electronic Component and Plastic Products and Metal Parts
Your Best Partner for Product Development and Manufacturing

1.Tooling will take 20-45 days.
2.Will provide sample for confirmation within 2~3 weeks.
3.Mass production is 30-45 days
after sample confirmation.
1.Tooling will take 20-45 days.


2.Will provide sample for confirmation within 2~3 weeks.


3.Mass production is 30-45 days
after sample confirmation.
Have a Complete Production
We keep improving our production, update our skill, reduce lead time. From design, assess, molding, manufacture, checking, assembly to final delivery, we focus on every detail to provide the best service.

We focus on every detail to provide the best service, including Design, Proposal, Tooling, Manufacturing, Checking, Assembly, and delivery.

We provide the high quality product to our customers, have a good business experience and the best service. "Stand at your side" is our principle when we do business with our customers.
Per our client's idea and request ,SHINING will consider the possibility, provide professional opinions, and turn the idea into a reality.
Per customer's request and product function, we will recommend a suitable material and production.

We have provided Injection Molding Solutions For Over 40 Years.
Fast Delivery and Customized Ceramic Terminal Block Development Services Backed
This is a very good experience, I contacted through Alibaba and found SHINING Industrial Cooperation For our project, we have a demand for customized ceramic terminal blocks,
SHINING helps many including revising designs, drawings, and continuously reporting and updating product status. Cooperate with our schedule to adjust batch delivery, I got the finished product to check the quality.

It is a very good craft and works well and solidly It's really great to be with SHINING.
Taiwan Terminal Block Manufacturer
Our main products include various automatic control
components and electronic components,
such asterminal blocks, euro terminal strips, double row barrier strips, single row barrier strips, connectors, power blocks, fuse holders, fuse blocks, fuse links, solid state relays, relay sockets, insulators, switches, buttons, heat sinks, and related accessories.

Meanwhile, we accept the design and fabrication of steel molds as well. Besides, our other products lines also include curtain draperies, hardware, and finials, bamboo floors, tagging guns, spray guns, plastic brushes, and miscellaneous hardware and plastic products.


David Lin


SHINING E&E Industrial
– General Manager–
Fast Delivery and Customized Terminal Block Development Services Backed by 20-year Industrial Experience and Engineering Background
We have firmly believed in the idea of consistent quality, service, honesty, and responsibility, which is also our policy to satisfy our customers with the most competitive price, the excellent quality, and the best service.
If you are interested in any of our products, please feel free to contact with us immediately. We look forward to building along-term cooperation relationship and bringing mutual benefits with you.
We are very interested in cooperating with manufacturers in other fields and look forward to benefit for each other.
"Working For A Better World" is our slogan. We deeply expect to have this world to be safer and better.
Win US Customers' Heart
with Fast Delivery and Response
|

SHINING E&E IndustrialE&E Industrial
A specialized supplier of terminal blocks, fuse holders, barrier strips, and solid state relays (SSR) since 1978.
Shining E&E Industrial Co., Ltd., founded in 1978, is a specialized manufacturer and supplier of plastic and electronic components products. We have experienced growth steadily year after year. Since 1992, our oversea factory, which is located in GuanDong Province, China, has been built to support our continuously expanding business. Awarded SGS ISO 9001:2000 certification since 2005.
Taiwan Top OEM/ODM Supplier
We have endeavored to the design and fabrication of all kinds of plastic products and have profound OEM/ODM experience with domestic and world-famous enterprises, such as TECO, TAIAN, Wal-Mart, Kmart, Target, Springs, and Sears, and so on. At present
we are extending our business to North America, Middle America, South America, Europe, Asia, Australia, and Far East countries.
Plastic Injection Molding and Metal Stamping Manufacturer
Mass production is 30-45 days
after sample confirmation.
Jim Lin
President Chairman and Co-founder
In the past 50 years, Jim Lin has conceived and built many successful companies.
I am a tenacious self-innovator. I started my own business from scratch. Riding on the wave of Taiwan's economic take-off, I started plastic injection and metal stamping businesses. Later, I started from traditional OEM's and moved into the manufacturing of power distribution equipment to produce for large electrical and electronic manufacturers.
As group president of SHINING endeavored to the design and fabrication of all kinds of plastic products, I lead a team focused on providing cutting-edge solutions to meet the needs of professionals and consumers across the globe. Throughout my 50+ years at SHINING, I have concentrated on empowering teams to create innovative products and services to solve new challenges.
An experienced leader with a thorough understanding of business operations, solid project management experience and a good record of creating results.
focus on people, business challenges, results, performance and execution. I use a structured approach to deal with issues and focus on communication and stakeholder management-ensuring that the results are consistent and sustainable. People are different, so my focus is on leading through clear communication and expectation management.
experience comes from the role of production line management. My major includes the following product design, prototyping, mold manufacturing, mass production manufacturing, supply chain management, and proficiency in 3D printing.
A high performing sales & marketing manager with a track record of success in complex and changing markets. A skilled critical thinker finding innovative solutions that meets the needs of emerging customer trends. Demonstrated adaptability in different functional roles and team builder with a history of identifying talent and developing it to its fullest potential.
Cross functional experiences include sales, key accounts, sales management, marketing, managed markets, sales and sales management training and development and executive level sales leadership.
Assist the company in expanding overseas business, marketing in more than 100 countries, Customers in more than 60 countries around the world, the furthest sold to Russia, Brazil, Mexico, etc.
Manufacturing experts
committed to growth.
Your Manufacturing Growth Partners
|

For more than 40 years,
SHINING has been providing manufacturers with the guidance they need to achieve long-term success.

Our team of highly-qualified consultants and industry experts are committed to turning your idea into real business success. Together,

we work as a team to grow manufacturing and "Working For A Better World"
Your Best Partner for Product Development and Manufacturing
1.Tooling will take 20-45 days.
2.Will provide sample for confirmation within 2~3 weeks.
3.Mass production is 30-45 days after sample confirmation.