What is Solid State Relays (SSR)?
2014/09/09
SHINING E&E INDUSTRIAL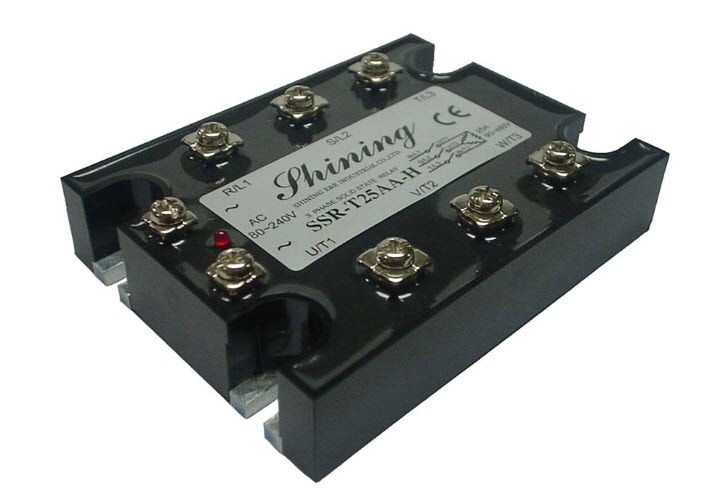 What is Solid State Relay(SSR)?
Solid State Relay(SSR) is new type of excellent performance non-contact electronic switch device which using advanced foreign technology and equipment.
The advantages of Solid State Relay(SSR)
The input end only requires a small control current, and better compatibility with TTL, HTL, CMOS integrated circuit. And the output circuit adopts thyristor or high power transistor to connect and disconnect
the load current. The input and output connecting with photocoupling, on
–off without contact member, therefore it has lot of superiority, such as reliable, ast, no noise, long life, small volume, no spark, corrosion proof and anti vibration etc.
| | | |
| --- | --- | --- |
| | Solid State Relay | Electromechanical Relay |
| Characteristics | Uses semiconductor devices | Uses electromechanical contacts |
| Size | Smaller size | Larger size |
| Speed | Almost instantaneous | Slower speed |
| Power Consumption | Consumes very little power | Requires more power |
| Noise | Generates very little noise | Can generate a fair amount of noise |
| Isolation | Better isolation due to no physical contact between input and output | Can provide isolation |
| Shock and Vibration | Not affected by shock and vibration | Affected by shock and vibration |
| Cost | More expensive due to manufacturing process | Less expensive |
| Lifespan | Longer lifespan with no physical contacts or arc generationr | Shorter lifespan due to constant opening and closing of contacts |
The Applications of Solid State Relay(SSR)
At present, Solid State Relay(SSR) has been widely used in computer peripheral equipment, electric heating
thermostat, CNC machine, remote control system, industrial automation equipment, signal
lamps, relay family(EMR).
Typical examples of SOLID STATE RELAY (SSR) applications:
industrial automation
electronic appliances
industrial appliances
packaging machines
tooling machines
industrial lighting
fire and security systems
dispensing machines
production equipment
on-board power control
test systems
metrology equipment
medical equipment
display lighting
elevator control
Other reference materials about Solid State Relay(SSR):